Descriptive Analysis of Catering Service Satisfaction: A Case Study of CV. Tidar's Catering
Keywords:
Gap Analysis, Customer Satisfaction, Service Quality, Customer Satisfaction Index, Importance Performance Analysis
Abstract
This research is motivated by the efforts of CV. Tidar's Catering to rise from the pandemic Covid-19 that hit in 2020. With the goal of finding strategies that are appropriate for CV. Tidar's Catering in response to the movement of the wedding industry in Indonesia which is slowly returning to normal. This study is applied research using Consumer Satisfaction index, Gap Analysis, and Importance Performance Analysis. The sample used are the 30 people who have used the services of CV. Tidar's Catering in the last 5 years to formulate a strategy in 2023. It was found that these 30 people are satisfied with the service CV. Tidar's Catering based on the Customer Satisfaction Index. But there is still a gap between the Services received and the expectations of consumers when the analysis was performed using the Gap Analysis Performance-Importance. The Research then proceed through the Importance Performance Analysis which found overall attributes contained in the service CV. Tidar's Catering requires attention from low priority to high.
Downloads
Download data is not yet available.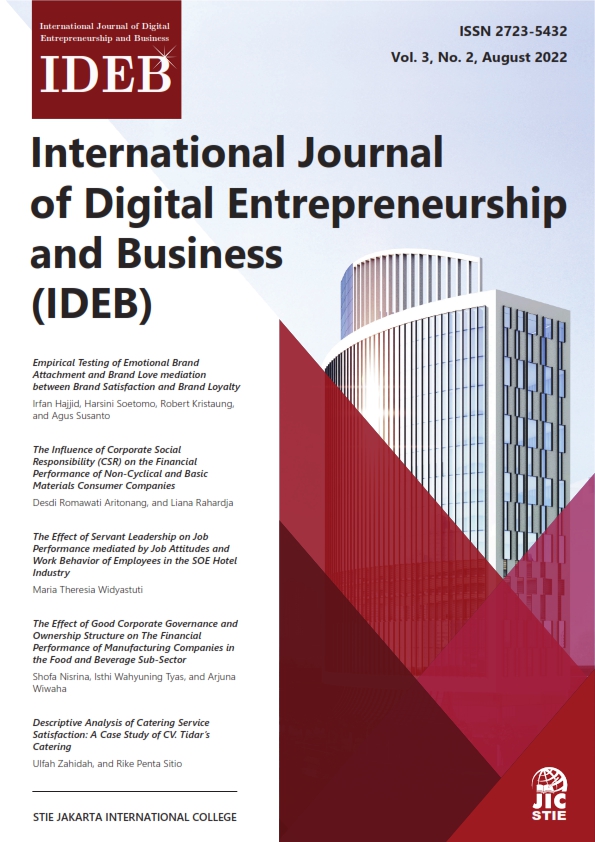 Downloads
How to Cite
Zahidah, U., & Sitio, R. P. . (2022). Descriptive Analysis of Catering Service Satisfaction: A Case Study of CV. Tidar's Catering. International Journal of Digital Entrepreneurship and Business, 3(2), 102 - 114. https://doi.org/10.52238/ideb.v3i2.89

Abstract viewed = 85 times