The Influence of Effectiveness and Trust in using Accounting Information System Technology on Employee Performance at Reinforcement Steel Companies in Jakarta
Keywords:
Effectiveness, Trust, Accounting, Information System Technology, Employee Performance, Reinforcement Steel Company
Abstract
The application of information system technology has a propensity to help in winning the existing competition among current businesses. Therefore, this study aims to collect empirical evidence of the effect of Effectiveness in Using Accounting Information System (AIS) Technology, and Trust in AIS technology on Employee Performance for the 51 people who were employed by six reinforcement steel companies in Jakarta. Also, the questionnaire used was processed and analyzed using multiple regression techniques, while respondents were selected with purposive sampling. Based on the research findings, effectiveness of using AIS technology is positively related with employee performance by 48.9%, and trust in using AIS technology is positively related with employee performance by 39.5%. It was also concluded that Effectiveness in Using AIS Technology, and Trust in AIS Technology variables simultaneously affect Employee Performance by 61.3%, whereas the remaining 38.7% is influenced by factors other than the variables being studied. For future research, companies manufacturing other objects besides iron and concrete ought to be included for future research.
Downloads
Download data is not yet available.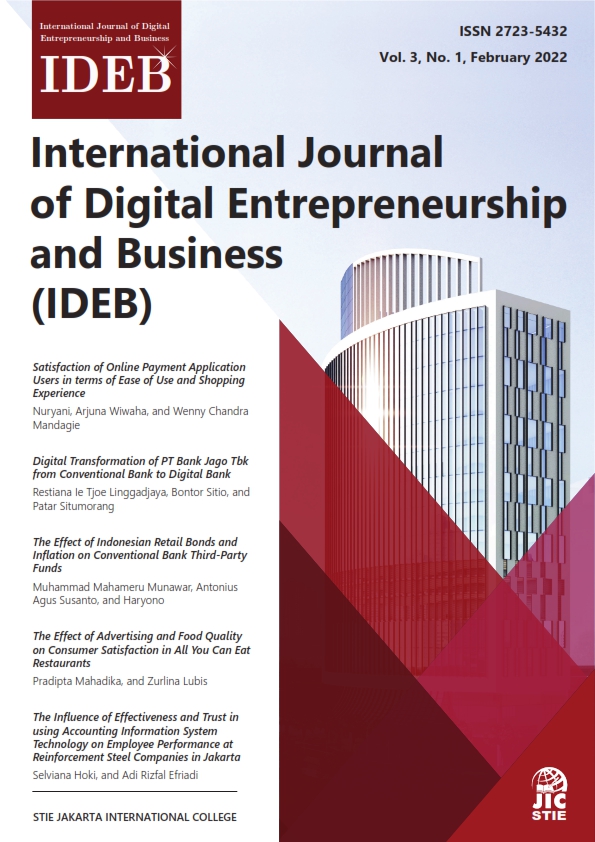 Downloads
How to Cite
Hoki, S., & Efriadi, A. R. (2022). The Influence of Effectiveness and Trust in using Accounting Information System Technology on Employee Performance at Reinforcement Steel Companies in Jakarta. International Journal of Digital Entrepreneurship and Business, 3(1), 39 - 48. https://doi.org/10.52238/ideb.v3i1.74

Abstract viewed = 112 times