About the Journal
Digital entrepreneurship enables entrepreneurs to leverage digital technologies to improve their organizations. In the current business landscape, many digital entrepreneurial endeavors provide interesting case studies showing innovative paths to entrepreneurship. Digital Entrepreneurial research explores new economic corridors that could provide employment opportunities, disruptive innovation, and overall economic efficiency and growth.
The International Journal of Digital Entrepreneurship and Business (IDEB) is an academic journal that publishes high-quality manuscripts dealing with digital entrepreneurship and digital business. IDEB provides a multi-disciplinary forum for entrepreneurs, researchers, managers, consultants, and practitioners in digital entrepreneurship. The journal includes case studies and conceptual and empirical papers that study the relationship between digital technologies and businesses to provide a better understanding of entrepreneurial approaches to doing business.
This journal is a premier platform for entrepreneurship and digital business researchers. Since its inception in August 2020, with subsequent editions released in February (from August 2020 to February 2023), IDEB has embraced a refined publication schedule. Since June 2023, the journal has committed to delivering insightful articles annually in April and October. In accordance with this trajectory, IDEB will exclusively publish manuscripts in the English language, extending the opportunity for authors to submit their works in the Indonesian language, with translation costs borne by the journal. Additionally, IDEB reserves the prerogative to periodically present special issues, delving into specific topics germane to its core focus. At the heart of IDEB's mission lies an unyielding dedication to publishing excellence, underscored by a steadfast adherence to elevated paper quality standards.
The International Journal of Digital Entrepreneurship and Business (IDEB) is available online with the following credentials:
Online ISSN (E-ISSN)                   :      2723-5432
DOI (Digital Object Identifier)      :      https://doi.org/10.52238
Local Acceditation                        :       SINTA 5
Publication Language                  :       ENGLISH
Call for Paper (URL)                     :        https://ejournal.jic.ac.id/ideb/announcement/
Current Issue
Vol. 4 No. 2 (2023): International Journal of Digital Entrepreneurship and Business (IDEB)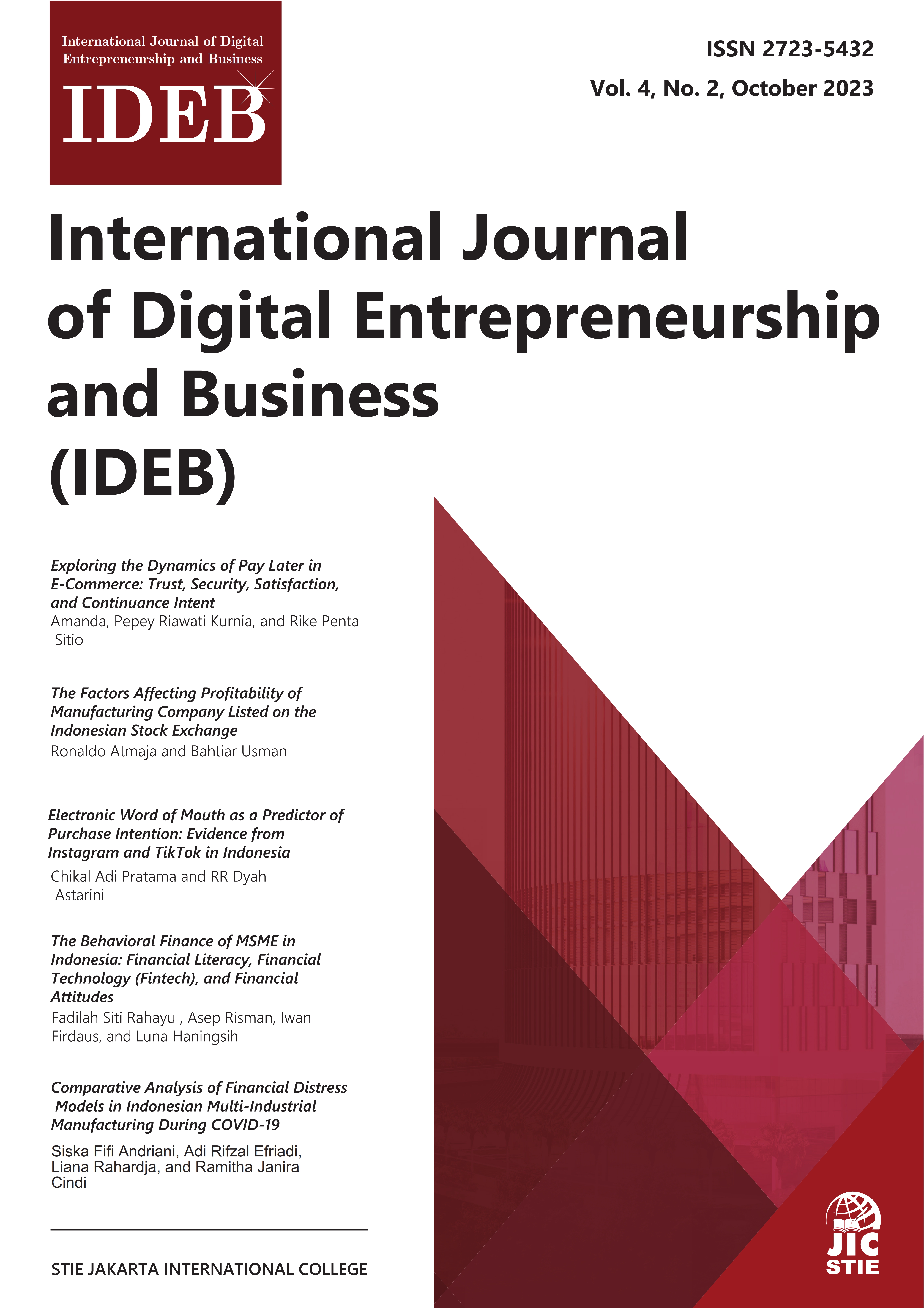 IDEB - Vol. 4 No. 2 (2023)
View All Issues